DEED POLL SIGNING, WITNESSES & EXECUTION
Once you receive your Deed Poll, you must sign it and have it witnessed. The legal term for this is "execution".
We will send a document along with your Deed Poll that will tell you how to execute your Deed Poll (and any duplicate copies) so that your change of name becomes fully valid. It is solely your responsibility to ensure that this takes place. The procedure is relatively simple and the following basic rules apply:
*** If you have your witnesses already and want to start your deed poll order click on the button below:
START AN ADULT DEED POLL - £18.50
WHO CAN WITNESS A DEED POLL?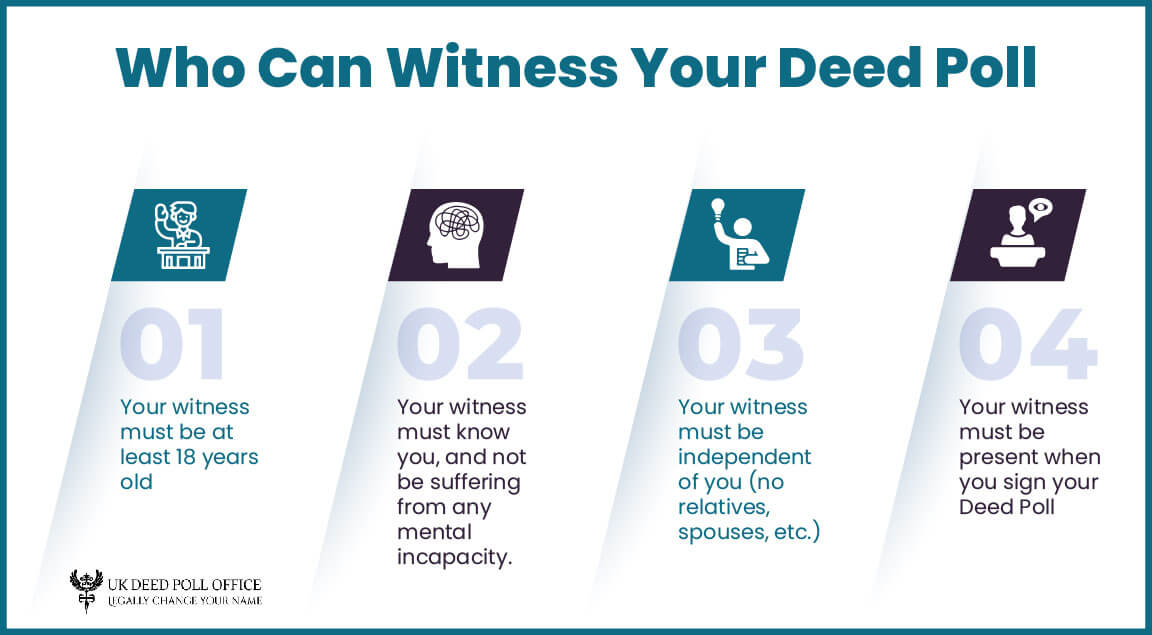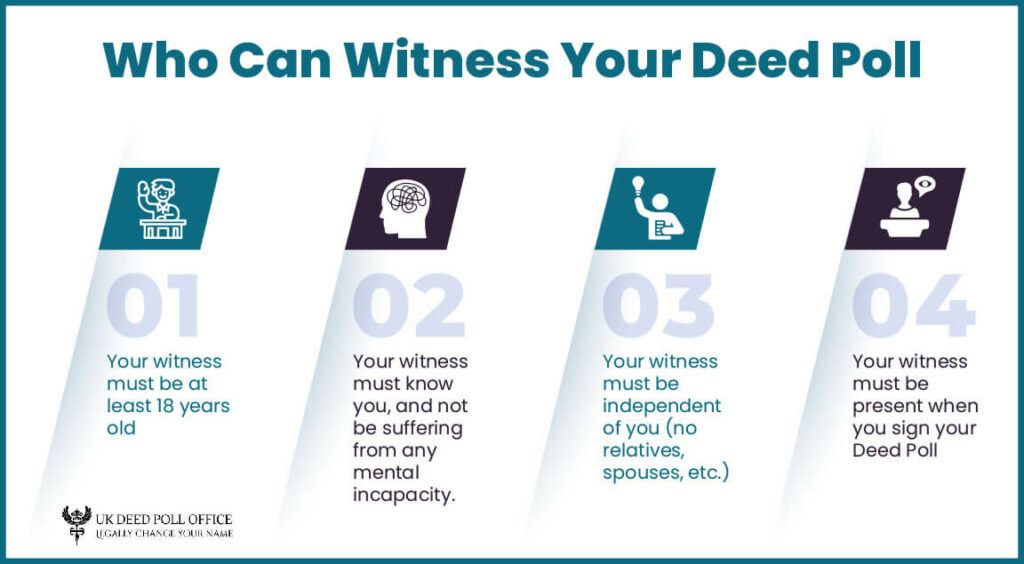 If you are British and a resident in mainland UK or Northern Ireland, your witnesses must be aged 18 or over.

Your witnesses

must know you, and not be suffering from any mental incapacity.

Your

witnesses

must be independent of you. As such, your witness can be a friend, neighbour or colleague, but they may not be a relative, your partner, or someone you live with.
Your

witnesses

must be present when you sign your Deed Poll

If you are British and are living abroad (or anywhere other than mainland UK or Northern Ireland), your Deed Poll may need to be witnessed by a solicitor or notary public.

If you are a foreign national, check with your embassy to see what is required in your home country.
Examples of valid witnesses
The list below is the most commonly used witnesses.
Your Friend
Your Work colleague
Your Neighbour
Examples of invalid witnesses
The people listed below cannot act as witnesses in your deed poll.
Your Mother or Father
Your Sister of Brother
A Grandparent
Your partner (whether married or not)
Your house mate
How many witnesses are needed for a deed poll?
To execute a deed poll you need two valid witnesses.
Once you have chosen your witnesses you should have your them sign your deed poll with a black ink pen. It is also a good idea that your witnesses know what they are signing, so let them read your deed poll before they sign.
If you have any questions about your deed poll witnesses give us a call. Our team will be able to help you with any questions that you have.