Changing Your Name on Your Drivers Licence
***Please note: before changing your name on your driver's licence you need to change your name by deed poll. To change your name with the UK Deed Poll Office click the button below.
START AN ADULT DEED POLL - £18.50
If you change your name, you must notify the DVLA and obtain a new driving licence in your new name.
In this article we will walk you through the process of changing your name on your drivers licence.
Changing Your Name on Your Driving Licence
To change your name on your driving licence (for cars or motorbikes) send the following to the DVLA:
The D1 application form.
Proof of name change such as a marriage certificate, decree absolute, or a Deed Poll.
Your photocard driving licence and the paper counterpart.
If you are trying to change your name for a lorry or bus licence you will have to fill out a D2 form instead. The other steps remain the same.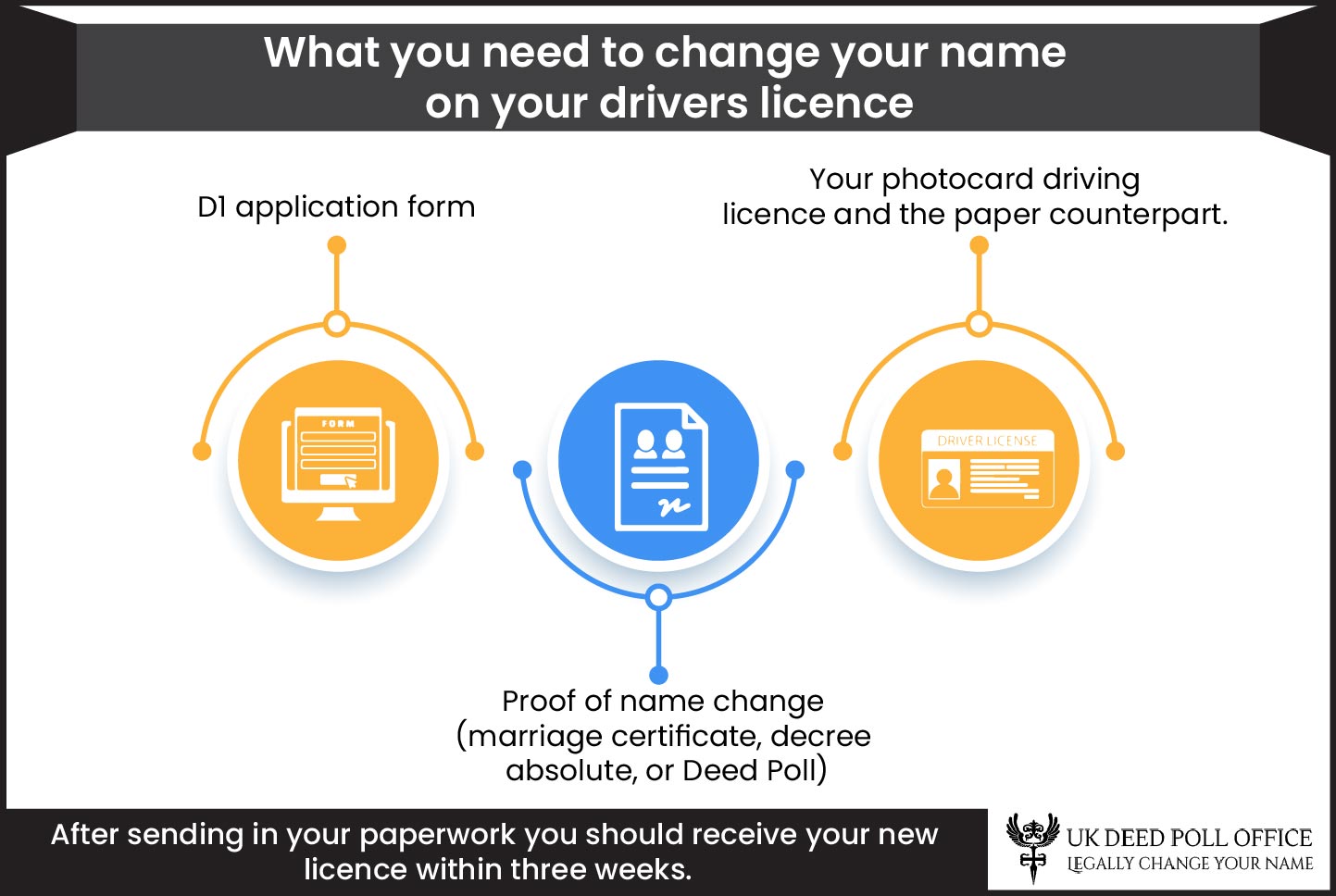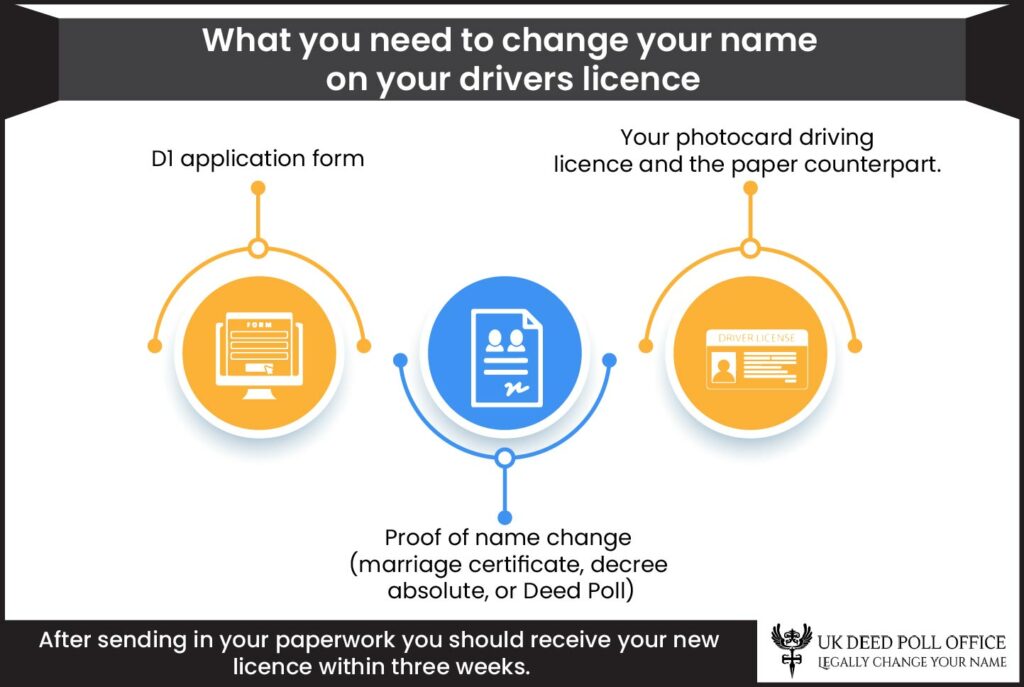 Filling out the D1 form
Follow these tips when filling out the D1 form in order to make sure your drivers licence name change goes smoothly.
Complete Section 1: Check the box "to change my name on my licence"
Complete Section 2: Make sure you write your new name and title in the main boxes and your previous name in the large box below it
Complete Section 5B: Check the box with evidence type you are enclosing (deed poll, marriage certificate, etc.).
Sign Section 7: Make sure to sign this section using your new name.
How long does the name change for a drivers licence take?
You should receive your new licence within three weeks of the date that you send the paperwork. Of course, this assumes that you filled out the application forms correctly.
Driving Before You Receive Your New Licence
You would still be able to drive while you are waiting for your new driving licence provided that:
Your British driving licence was issued on or after 1st January 1976.
You are qualified for a driving licence.
You were never refused a licence for medical reasons or for failing to comply with medical enquiries regarding your licence.
What does it cost to change my name on my driving licence?
It doesn't cost anything to change your name on your driving license. However, there will be charges if your photocard has been lost or stolen.
Is the change name process for a driving licence different for Northern Ireland?
The process for changing your name on your driving licence is similar for Northern Ireland residents. For more details about the process check out the link here.
Changing your name on your V5C vehicle registration document
If you change your name, the DVLA requires you to update your vehicle registration document.
To update your log book, write your new name in full in section 6 and add a separate note to explain that you've changed your name
It is important to update your information as you could face a £1,000 fine if you fail to inform the Driver and Vehicle Licensing Agency when you change name or address.